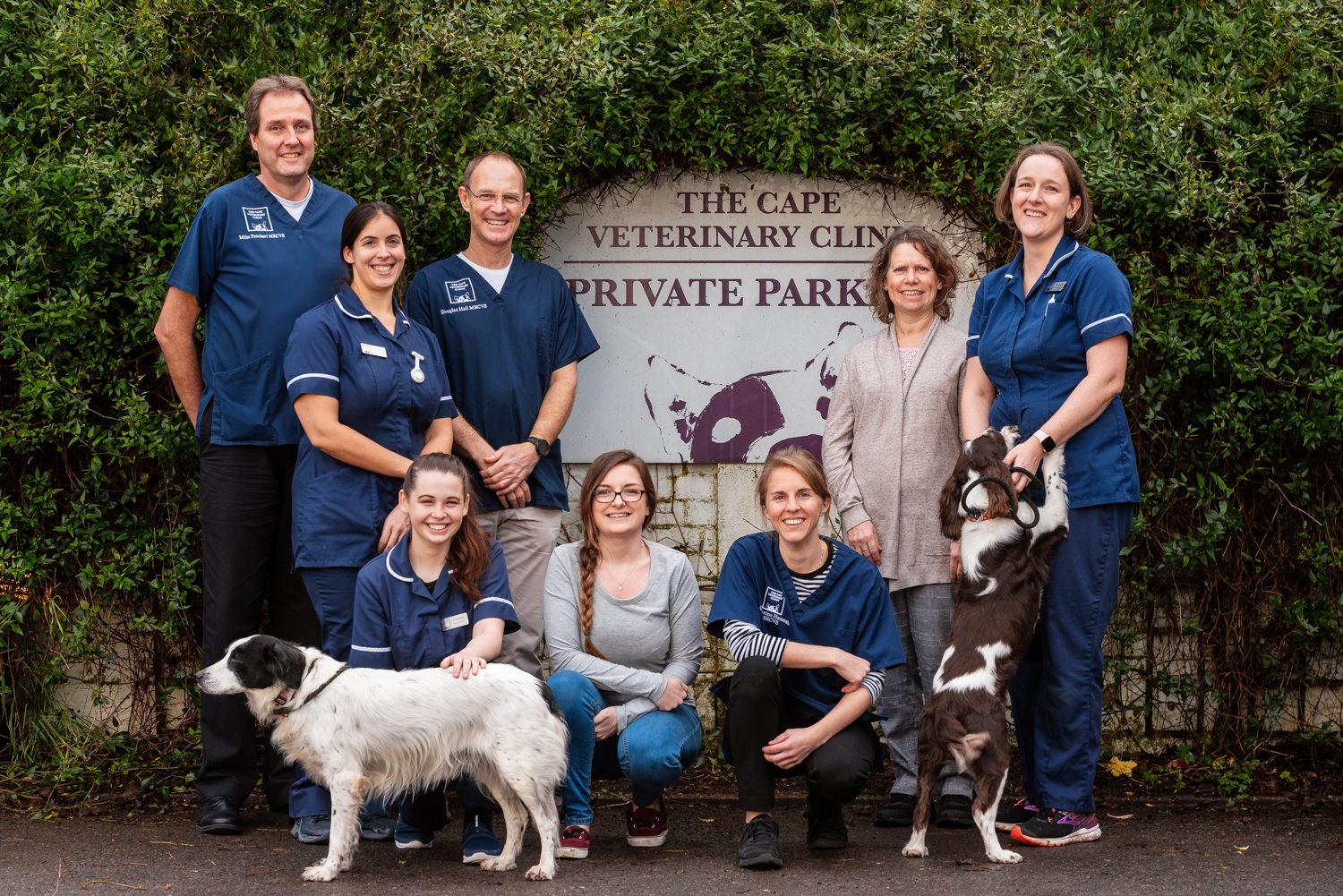 The Cape Veterinary Clinic is an independent, family-run clinic: the only one of its kind left in Guildford and increasingly rare across the whole of Surrey. We champion independence and all its benefits – for the client, the animal, the community and our staff. It allows us to do what we are best at – to work for the wellbeing of your beloved pet. We draw on an excess of 55 years experience and are supported by the very latest in cutting edge technology, without being limited by the bureaucracy of corporate practices.
As the only single-site clinic in Guildford, we can ensure that patients are usually treated by the same person. This provides excellent continuity of care and allows pets to build familiarity and trust with their vet.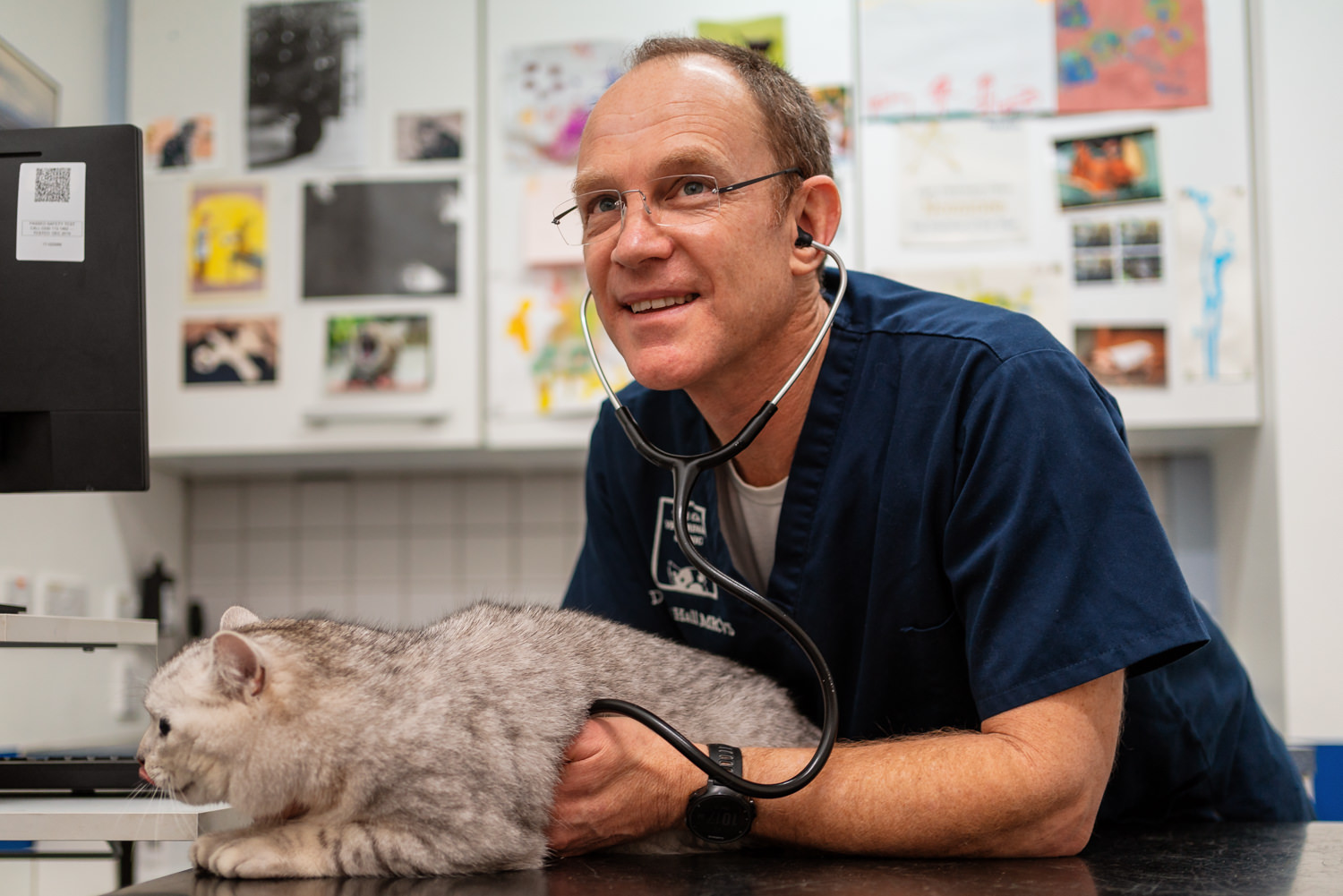 Douglas Hall opened The Cape Veterinary Clinic in 2004 after 10 years working in a small corporate practice in London. He set up a unique, independent clinic to have the freedom to develop a personal and holistic service, so often lost in today's corporate world. Douglas has built a fantastic, like-minded team – you will soon get to know them as they welcome you into the family. One of the keys to our success is the close bond we form with you and your animals, often spanning generations. We get to know you and your pet as individuals and friends 
We are extremely grateful to every one of our loyal clients who have been part of our journey and of our growing success. We welcome you to visit our testimonials page to read how delightfully vocal they are about the service they receive.
Our Team
Our team of experts offer the highest quality of care to our patients
Meet the team
Amazing care and attitude every time I take my pet here. The receptionists , nurses and vets are all amazing and take great care of my little dog and are always so happy to see her. Thank you

Thank you Sam and for all the care you, Catherine and all at Cape gave Finch yesterday. It was good to know that I could leave him and he would be well looked after. I'm always confident of the care and expertise at Cape no matter who we see but also appreciate the continuity of care we are able to receive from whoever we see initially with the issue. Special thanks to Catherine for her care of Finch yesterday.

I would very much recommend this practice. We have used it for our cat for 12 years now and have never felt that she has been over treated. It is a genuinely cat friendly practice and all the staff I have met have been caring and helpful.

I just wanted to say a big thank you to Mike who got Katie as "right as rain" when she was poorly just before Christmas

He even called me on Christmas Day to see how Katie was - what excellent client service!

This veterinary clinic goes that extra mile

I would highly recommend them
Martine


A lovely email from one of our clients:
Doug,

A huge thank you to you and your entire team, for your care and assistance during this dreadful year. I cannot express our gratitude enough for the fact that you are always available for Kit. Ten thousand thank yous, would not express our gratitude enough.

In grateful appreciation

Jo


This is just a quick Email to thank all the staff at Cape Vets and in particular Veterinarian Mike Pauckert for the care and attention given to our Chihuahua Peanut when we brought her in for an unscheduled caesarean section late yesterday afternoon.....

Despite the lack of notice, Mike and his staff took her in and performed the operation with obvious affection for the animals in their charge and professionalism in their work. After a couple of hours of anxious anticipation we had the result: four bouncing baby Chihuahuas and a very happy and contented mother (see photo attached!).

We are very, very grateful to Mike and the team for taking us on at such short notice and apologise for any over-run of opening hours that the operation required. You have our everlasting gratitude for going 'above and beyond'....

Now that we've found an excellent Vets we'll be back!


We cannot praise Cape Veterinary Clinic highly enough for the care and support they gave when our cat was seriously ill. Our cat was cared for by Douglas Hall and we had the opportunity to talk to him daily, he also went above and beyond to help us out of hours which we will never forget. Coronavirus restrictions made the situation much harder but this was managed in an excellent way and didn't diminish the ability to contact the clinic or for them to show real care and empathy on the phone. I couldn't wish for a better veterinary clinic as the whole team, from the vets, to the nurses, to the reception team, all care so much about the animals but also the family at the other end. We would always recommend using Cape Vets - thank you.

Highly recommend. AMAZING vets and staff. We can't thank enough you for all that you have done for our
Harley 💙🐾

The kindness and generosity of strangers. Douglas Hall did an emergency op on our dog Bella to extract a fractured tooth that is causing an abcess. We don't have a car so the Vet brought her home after the operation, keeping us safe by helping us avoid public transport during the time of COVID - 19.

Very kind and generous of you. Thank-you! You can count on our continued support.

5*
I've not been registered with Cape Vets for long, but I'm so glad I am! Both my dogs have been seen there recently for two different issues and the services had been impeccable. I wanted a personal service, rather than the 'bigger brands ' and you certainly get this here. Vets, nurses, and reception staff are all friendly and kind. This vets practice is more forward thinking to different aspects of animal care which is a huge plus for me, My dogs actually like going there to see the staff, thank you all for looking after Elsie and Stanley so well

They are amazing! Can't recommend the Cape Vets team highly enough after our crazy canine (Storm) upset an entire hive of bees who inflicted their angry, worst on him (20-25 stings).
I know he got the best love, care and attention because he now drags me into the surgery with a wonderful enthusiasm! They were super with me too and answered all my queries and concerns patiently allowing me to fully understand his predicament and recovery.
Storm is now fully recovered (though still has a fondness for buzzy things!)😉

I joined the Cape Veterinary Clinic 14 years ago when I rescued our first two cats and have since rescued two more. Throughout the highs and lows of pet ownership Douglas and his team have been nothing short of superb. I had no doubt I was receiving the best advice, but more than that I knew they all understood my cat's character because they had spent time getting to know her and tuning into her personality. She celebrated her 16th birthday last week and is back in the best of health. I have no hesitation in recommending this practise.
We Would Love to Care for Your Pets
Whether you're looking to register your pet, or you're already part of the family, we'll put them at the heart of everything we do.