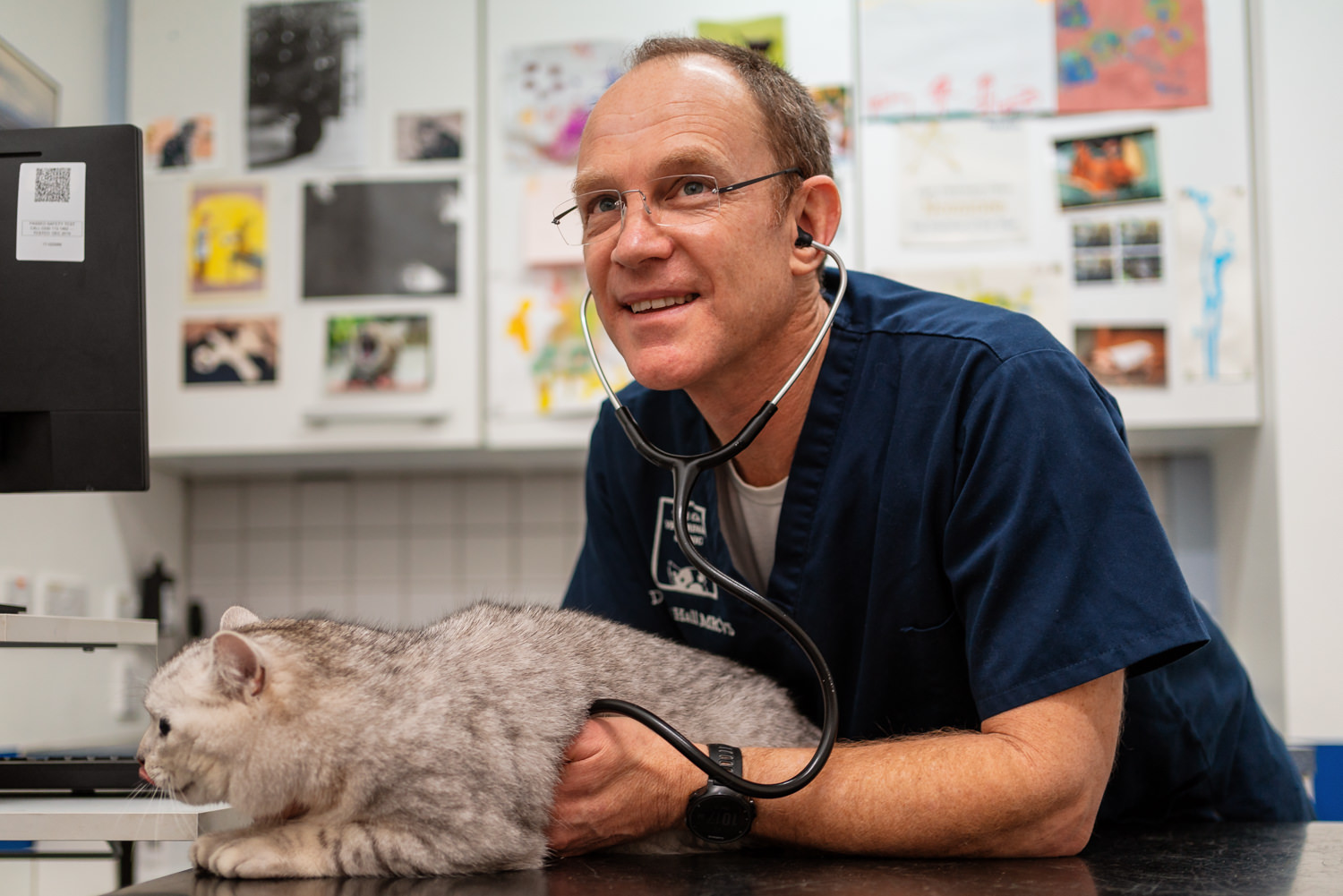 Director and Veterinary Surgeon
MRCVS
Douglas qualified in South Africa in 1992 and after working in a respected small animal practice in North London for 10 years he relocated to Guildford and opened The Cape Veterinary Clinic in June 2004. His focus is maintaining a team of committed, professional and compassionate staff and his veterinary strengths are in the fields of canine and feline internal medicine, ultrasonography and radiography, gastro-enterology, dermatology, and canine and feline behaviour.   

Douglas is so passionate about what he does and has the welfare of every patient and owner is at the forefront his mind.  None of this would have been possible without him!

When not spending family time with his family, Sara, Rafi and Arthur, Douglas enjoys triathlons, travelling and cooking.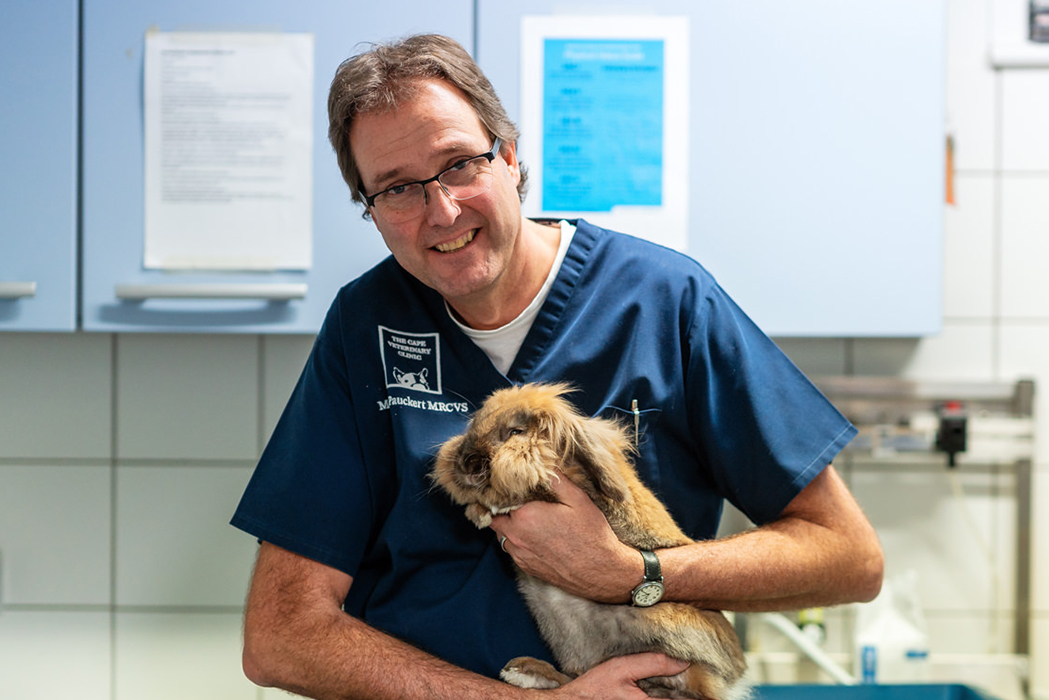 Mike, a classmate of Douglas, qualified in South Africa in 1992 and came to UK in 1995, joining The Cape Vets in 2014.  Mike's special interest are feline internal medicine, soft tissue surgery, dentistry, small furries and cardiology.   

Mike's compassion and empathy for his patients and clients is an outstanding attribute that in tandem with his professional skills has built a tremendous client following.
 
When not at work Mike is either tending his garden, or on the beach in Spain with his wife Allyson.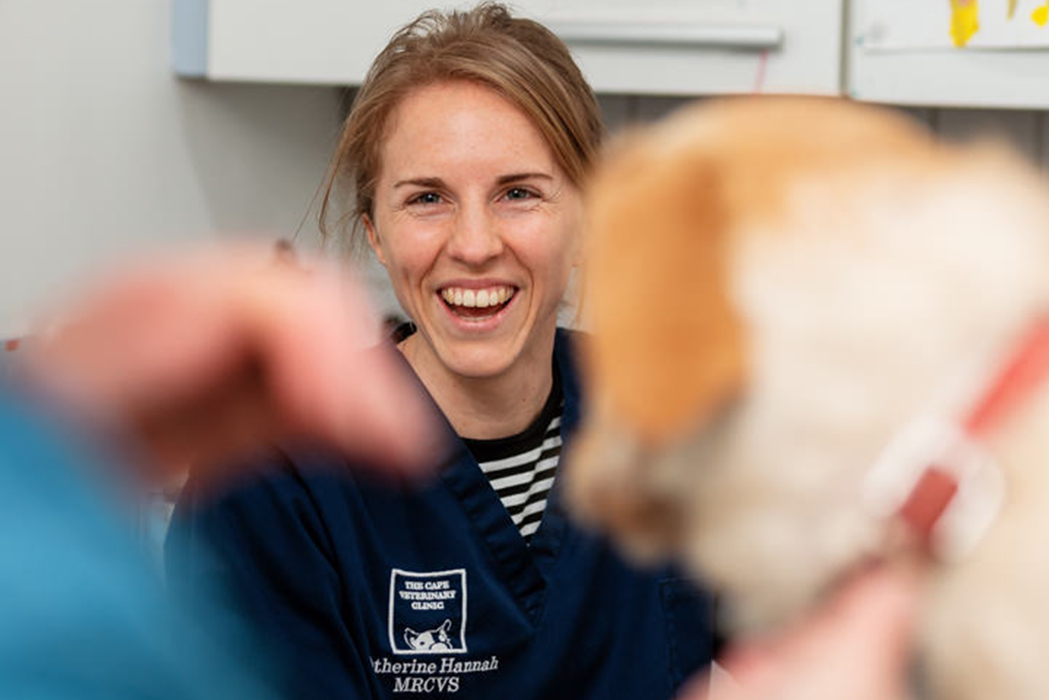 Catherine qualified from Bristol University in 2015, and after working in a small animal practice in Hertfordshire she joined our team in 2017. Catherine is particularly interested in soft tissue surgery, emergency and critical care, and animal behaviour. Catherine has a love for all animals, in particular cats, and prides herself in providing a stress free environment for all patients in the veterinary surgery.

Catherine is particularly interested in soft tissue surgery, emergency and critical care and animal behaviour. Catherine's understanding nature, and compassion truly shines through the moment you walk in her consulting room.

When not hard at work, Catherine enjoys country walks, dog walking with her family dog Truffle, and cuddles at home with her rescue cat Pesto.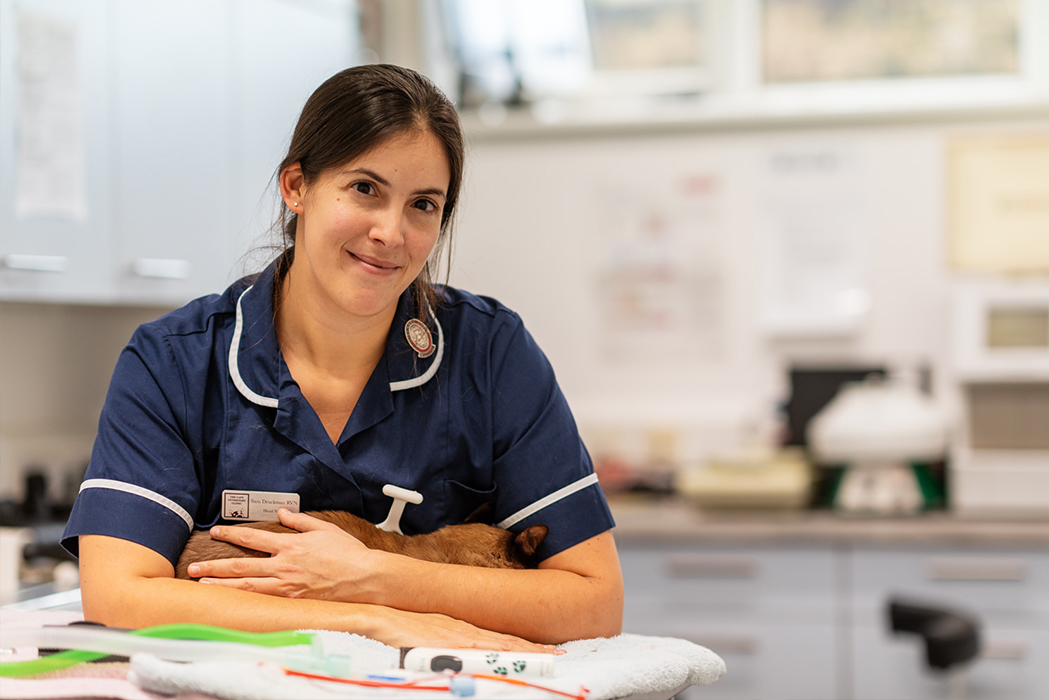 Head Veterinary Nurse
FdSc, BSc, RVN, ISFMCertFelineNursing
Sam is the Head Nurse at the Cape Veterinary Clinic, she qualified in 2015, and has worked in a variety of veterinary practices including a referral practice. Sam has been working at the Cape Veterinary Clinic since 2018 and has a real passion for making patients trips to the vets as stress free as possible. She also has a Certificate in Feline Nursing, and from this aims to make our practice as cat friendly as we possibly can.

Sam also helps run our Puppy preschool classes with our receptionist Annie. As the Registered Veterinary Nurse in our practice Sam enjoys the variety the job brings, and loves being so hands on with the patients. The nurse clinics that she runs include weight checks, nail clips, tooth-brushing clinics, and senior clinics.

Sam enjoys walks, running, and plenty of time at home with her two rescue cats Jasper and Luna.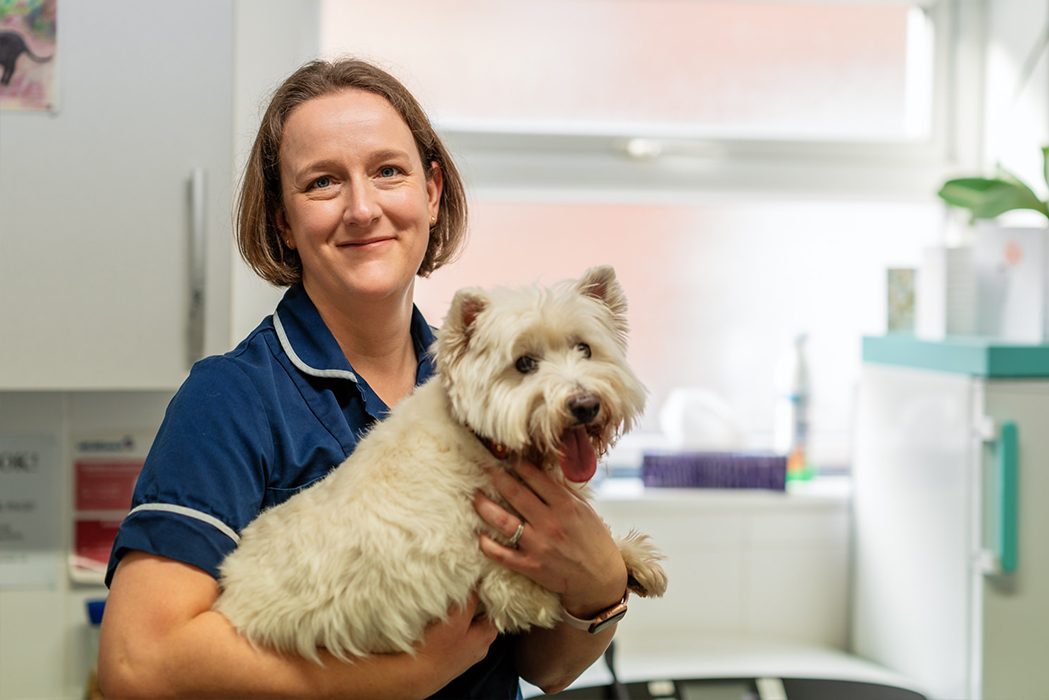 Student Veterinary Nurse
SVN
Ingrid is our Student Veterinary Nurse. Ingrid has been working at the Cape Veterinary Clinic since 2017. Ingrid is a vital part of the team and studies at college for one day a week, the other four days she is working in clinic doing on the job training.

Ingrid is passionate about animals, and has a keen interest in rehabilitation, anaesthesia and nutrition. Her interest in rehabilitation has been fuelled by her unfortunate, gorgeous Labrador called Ella who has had to have a hip replacement. We look forward to seeing Ingrid excel through her course and qualify as a Registered Veterinary Nurse in the next 18 months.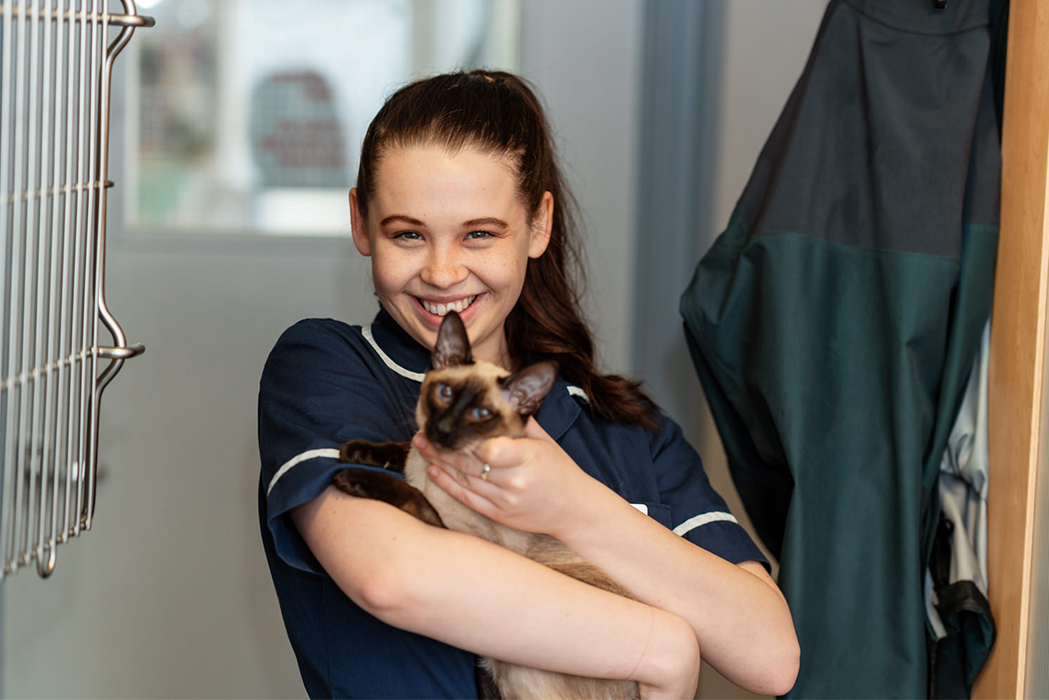 Veterinary Nursing Assistant
Jaeda is our Veterinary Nursing Assistant, and has been working with us since November 2017. She has studied both animal care, animal management and dog first aid at Merrist Wood College. Jaeda is hoping to study veterinary nursing in the future.

Jaeda has a vital role within the practice, helping to keep everything running smoothly! Her main duties are to keep the practice clinically clean and tidy, to help walking and feeding hospital and surgical patients as and when needed and occasional reception cover. In her free time, she enjoys reading and dog walking.

Jaeda's passion for the patients shines through, she has a genuine love for all animals, and our day certainly runs smoother with her help!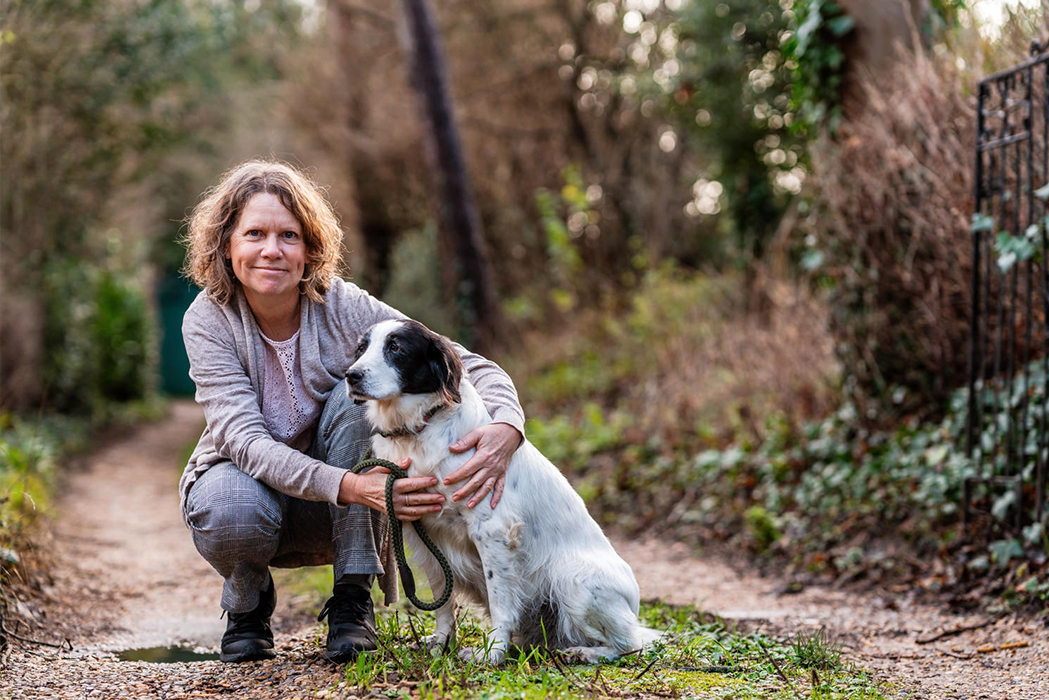 Clare is one of our receptionists whose friendly face you see when you walk through the door! 
Clare joined the clinic in 2017 having worked in the veterinary field for 15 years and previously in conservation. A lifelong animal lover and pet owner, she has completed courses in dog behaviour, pet bereavement and customer care.

Clare has always owned rescue dogs and is happiest when out and about in the countryside walking her lovely dog Piper.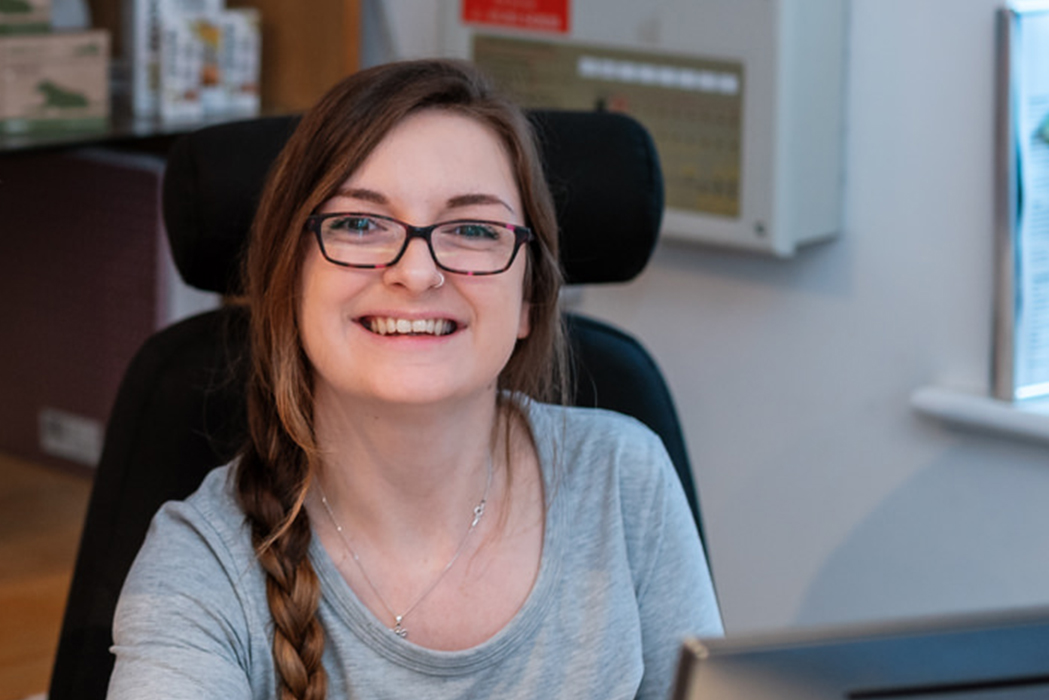 Annie is the newest member of our team. Annie is our second receptionist who is often the voice at the end of the phone! Not only is she a great asset to our team, she also brings a wealth of knowledge along with her. Annie has a degree in Applied Animal Behaviour and has been practising as a dog trainer for 7 years. Annie is also a member of the APDT (Association of Pet Dog Trainers).



Annie also runs our Puppy Preschool with Sam, and is always open to answer any animal training questions you may have! Annie loves spending time with her family rescue dog Queenie!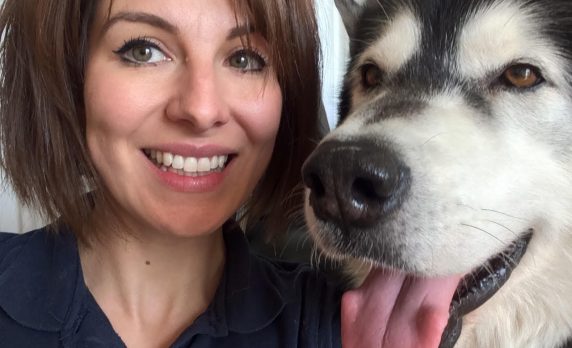 Myotherapist
BSc, MSc, Dip Canine Myotherapy
Luisa is our Myotherapist. Luisa has been working with us since June 2018. Luisa brings tremendous value to the management of our arthritic and spinal cases. With her calm and confident manner and her professional approach we have seen marked improvement in approximately 80% of both chronic and acute orthopaedic cases. Luisa has a real passion for huskies and Malamutes!

Luisa also treats working dogs across all disciplines including agility, flyball, competitive obedience, gun dog work, field trials, police and assistance dogs, and harness sports such as canicross, bikejor, scooter and mushing. She works with sporting dogs at the top of their fields including Brighton Flyball, Epic Agility, Crufts Competitive Obedience winner Di Martin and and World Sleddog Association medal winning team Infury Sleddogs.

Our Commitment To Your Pet
We will ensure to treat your pet as our own and keep your pet visit as stress free as possible.
Our Patient Charter
This is just a quick Email to thank all the staff at Cape Vets and in particular Veterinarian Mike Pauckert for the care and attention given to our Chihuahua Peanut when we brought her in for an unscheduled caesarean section late yesterday afternoon.....

Despite the lack of notice, Mike and his staff took her in and performed the operation with obvious affection for the animals in their charge and professionalism in their work. After a couple of hours of anxious anticipation we had the result: four bouncing baby Chihuahuas and a very happy and contented mother (see photo attached!).

We are very, very grateful to Mike and the team for taking us on at such short notice and apologise for any over-run of opening hours that the operation required. You have our everlasting gratitude for going 'above and beyond'....

Now that we've found an excellent Vets we'll be back!


We cannot praise Cape Veterinary Clinic highly enough for the care and support they gave when our cat was seriously ill. Our cat was cared for by Douglas Hall and we had the opportunity to talk to him daily, he also went above and beyond to help us out of hours which we will never forget. Coronavirus restrictions made the situation much harder but this was managed in an excellent way and didn't diminish the ability to contact the clinic or for them to show real care and empathy on the phone. I couldn't wish for a better veterinary clinic as the whole team, from the vets, to the nurses, to the reception team, all care so much about the animals but also the family at the other end. We would always recommend using Cape Vets - thank you.

Highly recommend. AMAZING vets and staff. We can't thank enough you for all that you have done for our
Harley 💙🐾

The kindness and generosity of strangers. Douglas Hall did an emergency op on our dog Bella to extract a fractured tooth that is causing an abcess. We don't have a car so the Vet brought her home after the operation, keeping us safe by helping us avoid public transport during the time of COVID - 19.

Very kind and generous of you. Thank-you! You can count on our continued support.

5*
I've not been registered with Cape Vets for long, but I'm so glad I am! Both my dogs have been seen there recently for two different issues and the services had been impeccable. I wanted a personal service, rather than the 'bigger brands ' and you certainly get this here. Vets, nurses, and reception staff are all friendly and kind. This vets practice is more forward thinking to different aspects of animal care which is a huge plus for me, My dogs actually like going there to see the staff, thank you all for looking after Elsie and Stanley so well

They are amazing! Can't recommend the Cape Vets team highly enough after our crazy canine (Storm) upset an entire hive of bees who inflicted their angry, worst on him (20-25 stings).
I know he got the best love, care and attention because he now drags me into the surgery with a wonderful enthusiasm! They were super with me too and answered all my queries and concerns patiently allowing me to fully understand his predicament and recovery.
Storm is now fully recovered (though still has a fondness for buzzy things!)😉

I joined the Cape Veterinary Clinic 14 years ago when I rescued our first two cats and have since rescued two more. Throughout the highs and lows of pet ownership Douglas and his team have been nothing short of superb. I had no doubt I was receiving the best advice, but more than that I knew they all understood my cat's character because they had spent time getting to know her and tuning into her personality. She celebrated her 16th birthday last week and is back in the best of health. I have no hesitation in recommending this practise.

Fantastic vet clinic with the kindest staff. We sadly lost one of our pets recently and we had so much comfort and support. Sam (the Head vet nurse) was amazing and I'd definitely recommend this vet clinic to all pet owners.
We Would Love to Care for Your Pets
Whether you're looking to register your pet, or you're already part of the family, we'll put them at the heart of everything we do.